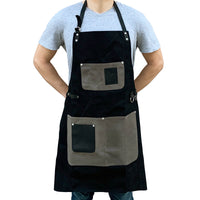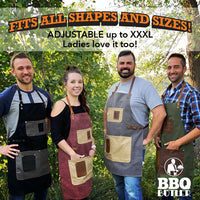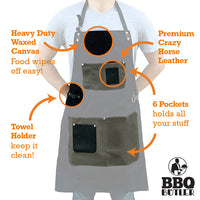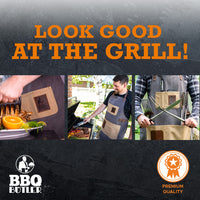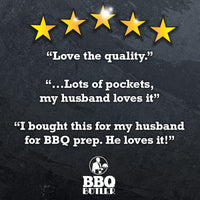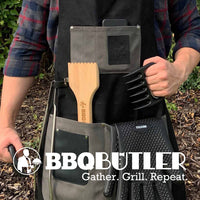 Waxed Canvas Apron With Leather Accents - Black
Description
PREMIUM QUALITY - No imitations here. Genuine crazy horse leather and durable two-tone cotton waxed canvas combine with the cool tones of metal rivets and accents to give you a grilling apron for others to envy. Premium quality has never looked so good
ATTRACTIVE - Made of high-quality canvas fabric with leather pockets and accents, our apron is ready to withstand intensive wear and tear. Ultra-resilient and easy to pull on and off. Premium leather pockets set this stylish apron apart from the crowd
VERSATILE - Explore the endless uses of a BBQ Butler grill apron. Perfect for BBQ grilling and smoking, chefs, bartenders, baristas, butchers, waiters, brewers, hairdressers, hobbyists, and so much more. So easy to wipe clean after your job is done
ESSENTIALS ON HAND - With 5 different size canvas pockets, 1 leather hanging loop, 2 metal D-rings, and a leather belly pocket, this apron can hold any tool or accessory you may need. From tongs to pencils, cell phones to spatulas and everything in between, there is a place for everything in this outstanding apron
ADJUSTABLE UP TO XXXL - Generously sized at 25.75" wide x 31.5" long, this working apron is ideal as a men's apron. Wearable up to a 55-inch waist. Adjustable leather straps ensure a comfortable fit for any size. Ladies will love it, too
Excellent apron
This apron is heavy duty and appears to be able to provide me years of enjoyment. I already received several compliments on the apron and I love the large pockets. The towel holder is clutch and I also like the rings on the opposite side. It allows me to hang tools or gloves via a clip.
Simply the very best BBQ apron ever
You need to know I'm not exactly the world's best handyman. In fact, my wife probably wishes there was a law requiring hammers, pilers, etc. to be stored in secure firearms-like containers and she has the key/code. My one triumph I achieved without viewing a video or reviewing blueprints on the internet. I'm very proud to let you know that the coat hanger on the back door of my bathroom is precisely perpendicular -- and I did it all by myself. Now for the apron. This is Very Important! The length of the belt is adjustable -- but DO NOT attempt to unscrew the metal grommet. Simply put, after you've widened the right hole, pull the grommet out [it may require pliers] and insert it at the appropriate length. CUSTOMER SERVICE!!! Without getting into details, BBQ Butler immediately offered to replace the grommet that had endured my klutzy attacks. Boy, did they ever do more. Today, just four days later, I received the replacement grommet BUT It Was On a Brand New Apron.
Awesome Apron for a Pitmaster
Great apron. Thick treated canvas, heavy duty straps, pockets for everything including one specific for your thermapen. Built in towel holder too. Great buy!
Great Apron
This well made apron was a gift to my son-in-law. The apron is well made and adjustable. At 6'3" he had no issues what so ever. Customer service was quite responsive as well. Would recommend.
Today is Dec 31. My package has been in Oxford, MS since the 22nd, according to USPS tracking. I have no idea if this is a great product or not. Maybe I will find out next year sometime. One can only hope. 🤞🏻