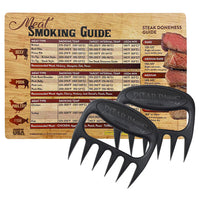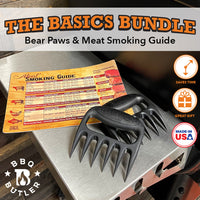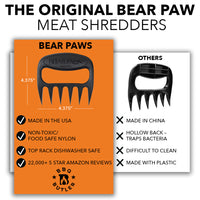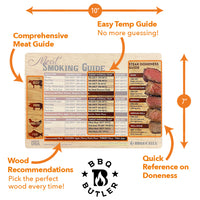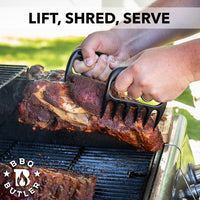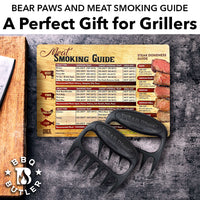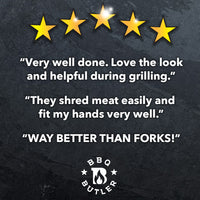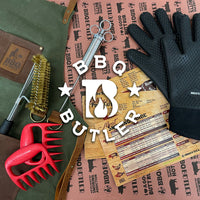 Bear Paws Shredders And Magnetic Meat Smoking Guide - Butcher Block
Description
TOP QUALITY - Non-BPA nylon original Bear Paws meat claws are a favorite of Pit Boss' and are ultra-durable shredder claws. They are ready for any cooking challenge. Lift, shred, pull, hold, carry, and use as salad tongs. They just won't stop
HEAT RESISTANT - Keep your hands safe! Bear Paws are melt-proof and dishwasher safe up to 475 degrees. A robust addition to any meat smoker accessories collection and a perfect gift for men and women who love to cook
TIMESAVERS - Bear Paws are the answer to lightning-fast, perfectly shredded meat without the mess and headache of knives and forks. Our durable, weather-resistant magnet means no more messing around with cookbooks or reference sheets next to the smoker. Keep it on hand any time you are cooking! It saves time by providing detail on thermometer temperature ranges, wood pairings, and our unique steak visual doneness chart
EASY AND FUN TO USE - Unique Bear Paw design gives a perfect handhold for safely managing the super-sharp shredder claws while smoking magnet adheres smoothly to any magnetic surface
PROUDLY MADE IN THE USA - Our original Bear Paws shredders and butcher block meat smoking guide are both proudly designed and produced in the USA
SAVE - Save $6.95 from individual product pricing when you buy this bundle
A misprint?
I use your Meat Smoking Guide to assist me smoking on my Green Mountain Smoker. I noticed the Smoking temperature range for Pork Belly to be 225°-275°. Your "target Internal Temp" to be 165°-205°. That's a big range spread. Almost all other "Target Internal Temp" ranges show 195°-205° for a Smoking Temp. range of 225°-250°. Could your 165° be a misprint and really should be 195°? Just seems a little low to me. Other than that, I really like/use your Meat Smoking Guide.
Awesome
Bought them when Good Morning America ran a special. They are awesome! Sharp and very well made. Cut the time to shred a 9 lb pork shoulder by 75% and the effort by 80%. Love these.
Great tool
This is better than using two forks. Great product!