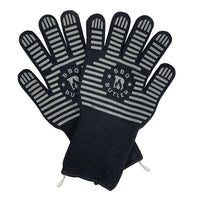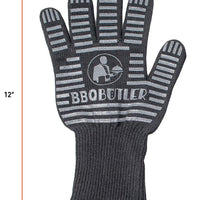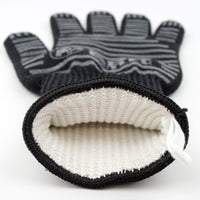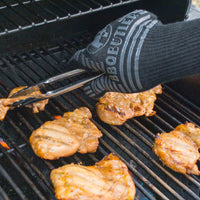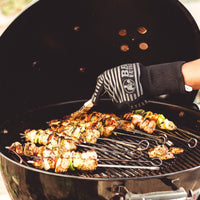 Heat Resistant Knit Grill Gloves - 2 Pack
Description
TOP QUALITY - One size fits most with our non-slip thick fabric gloves. Made from a deluxe combination of 80% meta-aramid, 20% para-aramid and a 100% thick cotton lining, hand safety was never this comfortable
HEAT RESISTANT - Rated at 662 degrees with an extremely fine knit & high thread count, these gloves can handle any heat from barbecues, smokers, ovens, microwaves, dutch ovens, pots & pans, campfires, light bulbs and much more
SAFETY GRIP - Easily grip all your items with the ultimate no-slip silicone strips
COMFORT - The cotton-lined interior and glove flexibility provide great comfort and extends high up the wrists for extra protection
LIFETIME GUARANTEE - Your satisfaction is 100% guaranteed with our lifetime warranty
Next best thing to a fire fighter
1. No more too-hot hands or singed arms basting dinner at the far back of the BBQ.
2. Excellent for transferring food from the BBQ to the table, e.g., fried mushrooms in a 70-year-old cast-iron frying pan that is placed on a hot pad in the middle of the table.
Summer Grilling
Perfect for my grilling guy.
Great gloves
The Heat Resistant Gloves fit my large hands very well. I was able to handle the racks on my smoker very easily and there was not the slightest bit of heat felt through the gloves. great product and service.
Heat Resistant Knit Grill Gloves - 2 Pack