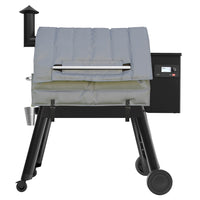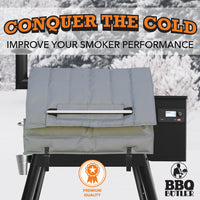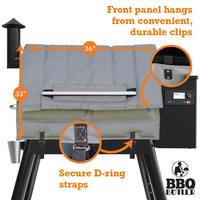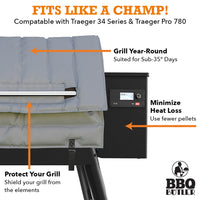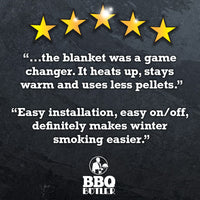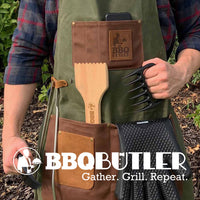 Smoker Insulation Blanket - Large
Description
REACH HIGHER TEMPERATURES - The BBQ Butler Insulation Blanket allows you to grill at higher temperatures by trapping heat inside the grill chamber
USE FEWER PELLETS - Each insulated smoker blanket has been carefully designed to minimize heat loss so that you use fewer pellets and maximize fuel efficiency
PROTECTS YOUR SMOKER - The protective outer layer shields the smoker from the elements so that it stays in top condition even in harsh weather
FITS TRAEGER PRO 34 SERIES - This smoker insulation blanket fits the Traeger Pro 34 and Traeger 34 Series grills and smokers like a champ. DOES NOT FIT ANY GRILL THAT DOES NOT HAVE A SIDE SMOKESTACK. DOES NOT FIT IRONWOOD 885 OR CENTURY 34
GRILL ALL YEAR ROUND - This BBQ Butler Traeger Pro 34 compatible insulating blanket allows you to grill all year round. NOT RECOMMENDED FOR USE ABOVE 40°F OUTSIDE TEMPERATURE
Don't know yet, it's a Christmas present
It's Heavy
Nice blanket, works great, just be careful you open the lid slowly so it doesn't flip backwards because the blanket is so heavy.
Works great.
I live in Colorado and this has really helps us not use so many pellets.
the cover did fit, but extra item needed
The cover did fit my Traeger Pro 780 Di2, but the lashing straps are short in length to connect the d-rings.solved problem with product from Home Depot.The company just needs to lengthen the straps maybe 12 inches and all will be good.
Great Product
Easy installation, Easy on/Off, definitely makes winter smoking easier.