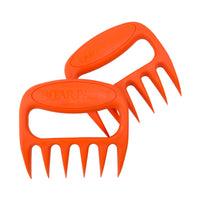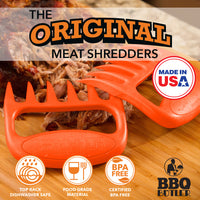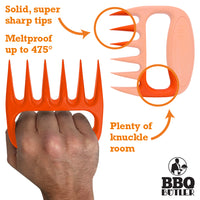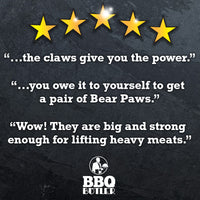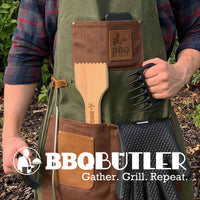 The Original Bear Paws Meat Shredders - Orange
Description
TIME SAVER - Bear Paws are the answer to perfectly shredded meat without the mess and headache of knives and forks. Easily grasp and shred pork, chicken, beef, and more with the ultra-sharp "claws"
MELTPROOF and DISHWASHER SAFE - Made of BPA-free nylon, FDA-approved, and heat-resistant up to 475 degrees. Never worry about your shredding tools melting near the grill or in the dishwasher
EASY & FUN TO USE - Lift, handle, shred, pull, and carve to your heart's content. Excellent as turkey lifters, too! Our unique design gives you a perfect handhold for safely managing the super-sharp shredding blades
BBQ PRO FAVORITE - Featured on BBQ Pitmasters, Guy Fieri's Diners, Drive-Ins, and Dives, and America's Test Kitchen. Bear Paws have been named "Best BBQ Tool" by the National BBQ Association
THE ORIGINAL BEAR PAWS - The favorite BBQ accessory for years, Bear Paws are 100% made in the USA. Nobody beats us for quality and strength. We know Bear Paws will make your BBQs 100% more epic
The Original Bear Paws Meat Shredders - Orange
This thing is amazing, I have used it twice since I got ...
I got this product at a discount to offer an honest review.This thing is amazing, I have used it twice since I got it. First to make pulled pork, which was amazing, and second I took some leftover beef soup and shredded the veggies and meat in it and made a meat/veggie paste to put in meat pies. It worked not only with the meat but the veggies as well and it was OK with the different textures.This is what everyone is getting in their Xmas stocking, I am so stoked to keep using this.
Ingenious idea!
What an ingenious idea! These Bear Claws are perfect for pulling pork or chicken. A task that used to take forever with a fork has been made so much easier. The claws can also be used to move large roasted meats. Molded out of hard plastic, the claws seem good quality and durable. The handles are easy to hold and accommodate any size hand. I love that they are made in the USA!I received this product at a discounted rate in exchange for my fair, honest, and unbiased review.
Having a little fun and making the job easy for shredding meat
Makes shredding any type of meat or food, fun and easy. I have to admit I enjoyed shredding some chicken when I first got this. The blades a sharp and the handles are okay but I think they slide just a little too much and think an actual grip material would be best for future versions. Overall, I'd use this over a blender to do simple shredding of meat. This product was provided at a discounted price in exchange for my honest review.