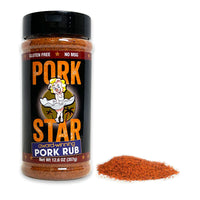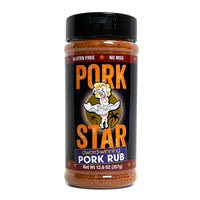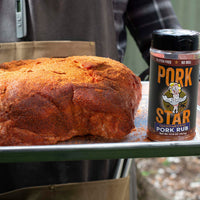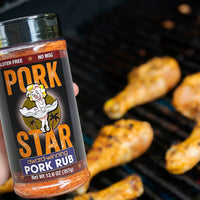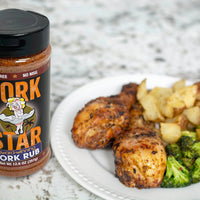 BBQ Pit Stop Pork Star Pork Rub - 12.6 Ounce
Description
VERSATILE - It's not just for pork anymore. Also an outstanding BBQ rub on chicken, beef, AND lamb. Massage it in or sprinkle it on
FLAVORFUL - 12.6 ounces of deep flavor coming at you: brown sugar, chili pepper, garlic, and onion are the all-stars of this tantalizing pork rub
NATURAL - Never fear. Pork Star Pork Rub has 0 calories and 0 grams of fat per serving. As always this finger-licking rub is gluten and MSG free
EASY - This champion of BBQ rubs makes it sublimely simple: sprinkle, rub, smoke. Does it get any easier than that? We think not
JUST LIKE YOUR LAST GIRLFRIEND - Sweet with a kick of heat. Or was that heat with a kick of sweet?
BBQ Pit Stop Pork Star Pork Rub - 12.6 Ounce
Great universal spice rub for all meats
we have used this rub on a variety of things from burgers, two chicken thighs, two pork. It is truly a universal spice rub that makes everything taste spectacular. When we have company over, they always ask what our marinate is. I love that it is so easy. No muss no fuss.
Flavorful without being too much.
Nice bold flavor without being "too spicy" for the kids. We tried it with chicken this time but will try other meats in the future.